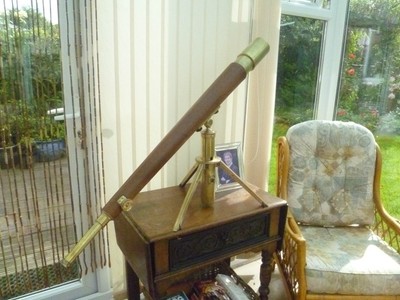 Click here for more information and to buy.
This most impressive antique brass table top telescope was made by Thomas Cooke of York around the turn of the century and branded a by Ross, probably for military / naval use..
Given its age of 120 years plus its in very good condition, the objective is about 3 and a quarter inches free of cracks and mould, showing cleaning marks over the years, but still produces a good clear image.
The rack and pinion is nice and smooth, a small amount of sticking at one point but not seriously so.
The image is terrestrial,it could be used to look at the moon, but understand that the optics are old.
It is a very imposing telescope with a interesting pedigree.
It would look at home in both a minimalist and period environment and connects with a period in English history when we were a major major player in the
world of Scientific and optical instruments.
Any questions
tel Lincoln on 01772 749 218
Category: Antiques:Marine/Maritime
Location: Preston
Click here for more information and to buy.
See below for similar items.
---
We can't find an exact match in our shopping database. Have a look at the similar items below, or try using the search box.
Items 1 to 15 of 11774

Items 1 to 15 of 11774