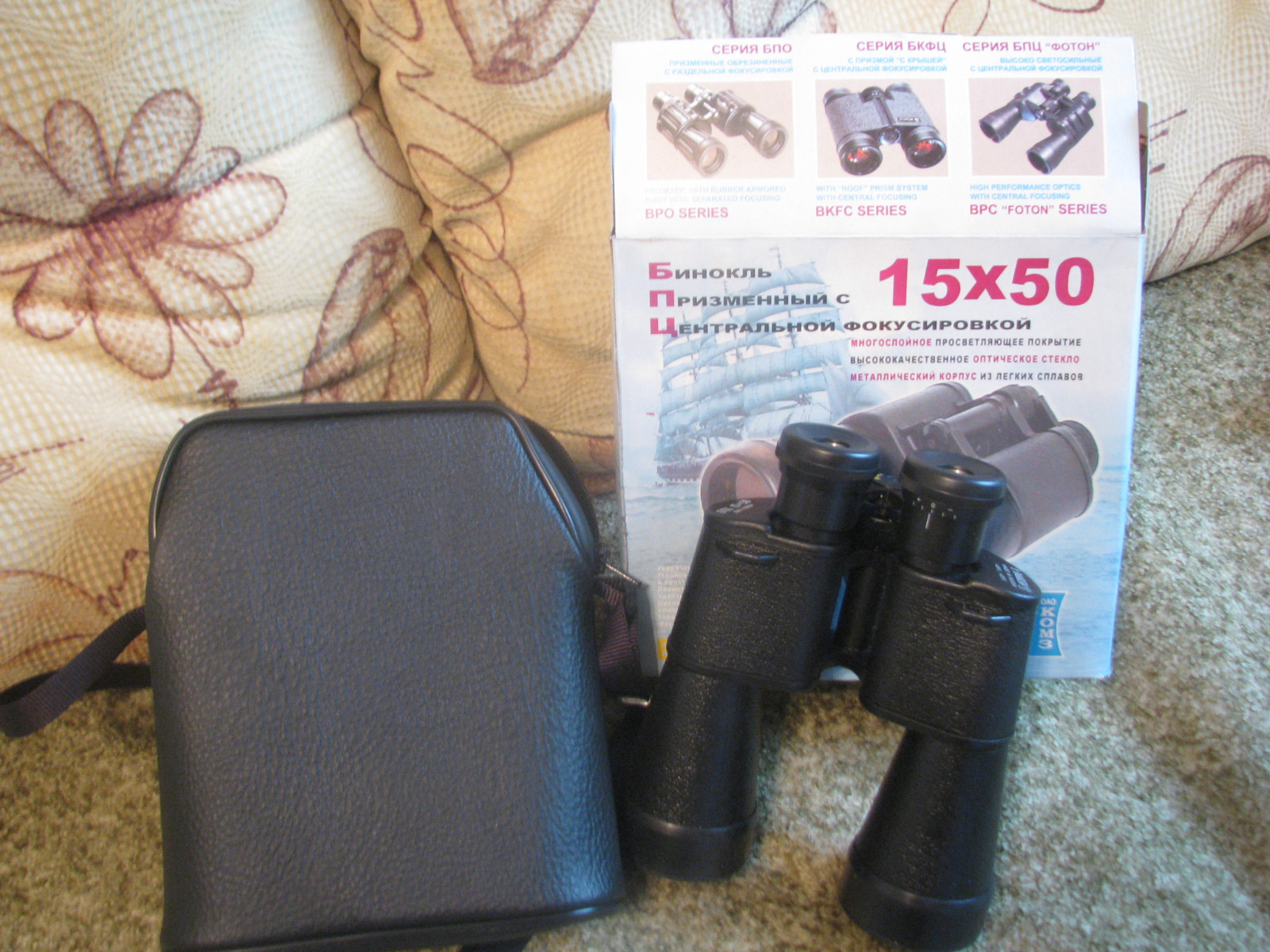 Click here for more information and to buy.
Description This BPC 15×50 Binoculars manufactured by KOMZ (Kazan Optical and Mechanical Plant) in Russia. New, never being used. Decoding of sign after the name of Binoculars:'B' stands for binocular, 'P' for Porro prism, and 'C' stands for central focusing. The following options are available: BLACK Finish The bread and butter line of medium magnificationbinoculars, the mid-range BPC mid-mag line gives you all the functionality you needat a great price. The BPC 15×50 are central focusing binoculars intended forviewing at medium distances. The binoculars are the premium platform forobserving during walking tours, in hunting, sporting competitions, etc. Theyare of the highest quality and are lightweight and convenient for carrying. The optics are professionally anti-reflection coatedfor greater clarity and improved viewing in low light and dusk conditions. TheBPC 10×40 Is probably the best pair of binoculars we sell dollar for dollar.These are really outstanding for the price. They are light, compact, easy tothrow in a pack for hiking or hunting. If you are outdoors a lot and don't own2-3 pairs of these then you're not having as much fun as you should!The binoculars have the large diopter setting range,are supplied special covers for eyepieces and objective lens.This modelsmay be use in any climatic zones (-40 +50C).Thebinoculars is absolutely new, in packing. I buy these binoculars directly at afactory. Specifications:Magnification: 15xRange of View: infinityObjective Diameter: 50 mmDiopter adjustment: 4Distance between oculars:adjustable from 52 to 76mmAngle of field of vision: 6.5Field Of View (at 1000 yrd.): 342′ (114 m at 1000 m)Minimum Focus Distance: 19.7′ (6.0 m)Exit Pupil Diameter: 4.0 mmEye Relief: 12 mmResolution:4.3″Relative Brightness: 16.5Twilight Factor: 17.3Focus Type: CenterLenses material: Glass – TF1 Prism Material: Glass – BK7Weatherproofing: weather-resistansDimensions, inch (mm): 7.1 x 6.3 x 2.4″ (180 x 160 x 60mm)Weight, lb (g): 1.66 lb (750 g)This models may be use in any climatic zones (-40 +50C).
Delivery set: Thebinoculars -1 pieces Belt- 1 piecesTirecover – 1 piecesCase- 1 piecesPacking – 1 piecesThe operation manual – 1 copy Payments I preferPayPal as it is fast, easy and safe.Payment mustbe made within 5 days after purchase is made. If you need a little more time topay, please let me know. Shipping andPacking InfoItem will becarefully packaged and sent out of Russia within 3 working days after receivingpayment.I alwayssend items via Russianpost (RussianMail).Usuallyinternational shipping from Russia takes 3-4 weeks (sometimes more, dependingon the country of residence of the buyer). Third partycarriers available. Please be advised that if you want your itemto be shipped via third party carriers, their tariffs on international shippingare much higher. FeedbackI am anovice seller and feedback is very important to me. So I would be grateful ifyou could find a few minutes to leave positive feedback and I will do the same.If for any reason you want to leave neutral or negative feedback, please sendme an email first and I will do everything in my power to resolve theissue. Please feelfree to ask any question!Thank you for bidding and good luck!
Category: Cameras and Photography:Telescopes and Binoculars:Binoculars and Monoculars
Location: Saint Petersburg
Click here for more information and to buy.
See below for similar items.
See more from eBay…
---
We can't find an exact match in our shopping database. Have a look at the similar items below, or try using the search box.
Items 1 to 15 of 194904

Items 1 to 15 of 194904