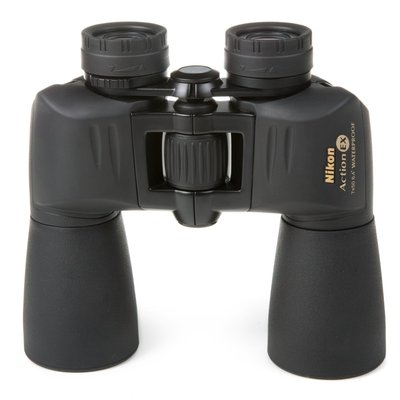 Click here for more information and to buy.
Call us on 02072406774 From9:00AM – 5:30 PM Monday to Saturday.
You can collect your order from our Central LondonShop. Nikon7x50 Action Extreme (EX) Waterproof BinocularNikon Action Extreme (EX) 7×50 Waterproof Binocular is designed to appeal tooptics users who value tough construction and reliable optical performanceunder even the most extreme conditions. Nikon 7×50 Action Extreme (EX)Waterproof Binoculars feature an all-metal chassis with lens fittings housed ina tough, lightweight polycarbonate body shell. Like all Nikon All TerrainBinoculars, the Nikon 7×50 Binoculars is nitrogen-filled and O-ring sealed fortotal waterproof, fog proof and shockproof performance in any environment.The Nikon 7×50 Action Extreme Binocularsbodies are ergonomically shaped, tripod adaptable and rubber coated for anon-slip grip, whether wet or dry. The Action EX series binoculars eachfeature a unique, click-stop eye cup design that not only delivers long eyerelief, but also allows for variable eye relief that is customizable to theuser's own eyes and eyeglasses. The Nikon 7×50 (EX) Waterproof Binoculars arecentral focus with a dioptre control to correct for normal right/left eyevision imbalanceFeaturesof Nikon 7×50 Action Extreme (EX) Waterproof BinocularsBinocularshas Rugged Waterproof, Fog proof constructionNikon7x50 Action Extreme Binoculars has Rubber armour forsure gripBright,multi coated opticsNikon7x50 Action Extreme Binoculars has Turn-and-Slide RubberEye cupsNikon7x50 Binoculars has Long eye relief for eyeglass wearersNikon7x50 (EX) Waterproof Binocularshas Quick central focusingNikon7x50 Binoculars has Dioptre control forstrain-free viewingNikon7x50 Action Extreme (EX) hasBaK4 High Index Prisms Specifications – Nikon 7×50 Action ExtremePrismTypePorroRealAngular Field View6.4 DegApparentAngle of view44.8DegFieldView of view at 1000m112mExitPupil7.1 mmEyeRelief17.1mmRelativeBrightness 50.4CloseFocusing Distance7meters / 22.97 ftBodyRubberCoated (Armoured) Waterproof/ Fog proof yesDimensionsL x W179 x196mm / 7.04 x 7.71 inWeight1000g /2.20 lbAccessories Supplied
Nikon Strap
Nikon Case
Nikon instruction manual
Nikon Eye caps
Category: Cameras and Photography:Telescopes and Binoculars:Binoculars and Monoculars
Location: LONDON, London
Click here for more information and to buy.
See below for similar items.
See more from eBay…
---
We can't find an exact match in our shopping database. Have a look at the similar items below, or try using the search box.
Items 1 to 15 of 39871

Items 1 to 15 of 39871