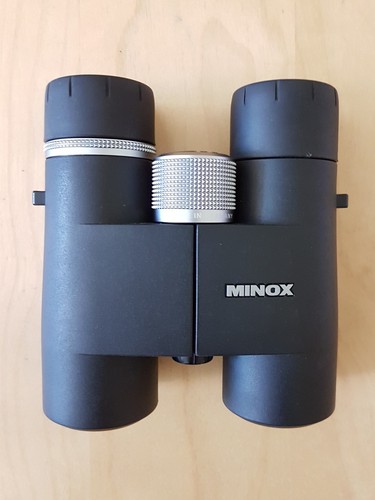 Click here for more information and to buy.
Top of the range binoculars, from the (in this country) much undervalued German manufacturer Minox. These are high grade optics and to the untrained eye the image is indistinguishable from the top makes such as Swarovski, Leica and Zeiss.
8×33 offers the perfect combination of high performance but lower weight and smaller size than the more regular 8×40.
I reluctantly sell these binoculars after acquiring a pair of Zeiss Conquest 8×32 binoculars. I have been undecided for a long time about which binoculars to keep and which to sell, because these Minox bins are in my eyes just as good as the Zeiss ones. However, I can only justify to keep one pair.
The Minox beat the Zeiss in terms of colour representation, with beautifully neutral colours, providing a very clean and pleasantly peaceful image. In terms of sharpness the two are equal. The Zeiss beat the Minox in terms of image contrast, giving the Zeiss image a little bit more 'pop', particularly in shadow areas. (in my eyes – everyone is different when it comes to such fine detail)
The binoculars have recently been serviced and cleaned by MINOX Germany, and they are in overall excellent condition. There are only very minor signs of wear, see photos. The lenses are immaculate.
They come complete with all original packaging and accessories, including two unused Minox straps.
Buy them before I change my mind!
Feel free to visit and try them in York, YO10.
10 discount on collection if you pay in cash.
Category: Cameras and Photography:Telescopes and Binoculars:Binoculars and Monoculars
Location: York
Click here for more information and to buy.
See below for similar items.
See more from eBay…
---
We can't find an exact match in our shopping database. Have a look at the similar items below, or try using the search box.
Items 1 to 15 of 122024

Items 1 to 15 of 122024