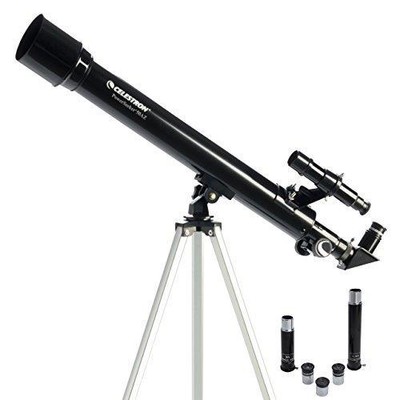 Click here for more information and to buy.
 DescriptionCelestron Powerseeker 50AZ Refractor Telescope – Celestial Viewing at its Best Introduce yourself to the hidden wonders of the universe and expand your celestial knowledge with the PowerSeeker 50AZ Telescope by Celestron, designed to give the first-time telescope user the perfect combination of quality, value, features and power. Featuring erect image, fully-coated glass optics with high transmission coatings to enhance image brightness, contrast and clarity, the 50AZ allows crisp, clear viewing of the land as well as the sky with slow motion control for smooth exploration and tracking of a variety of objects. Easy to set up with convenient no-tool tripod assembly you can ensure that you are always prepared and don't miss that all important moment, such as the passing of a comet or a lunar eclipse with which timing may be crucial. There is even a handy accessory tray included, which attaches to the tripod for convenient storage of all your accessories, ensuring they are always within reach! Family-Friendly and Great for Beginners Packed full of great features the 50AZ package also includes 20mm, 14mm and 4mm eyepieces and a 3x Barlow Lens, which triples the magnifying power of each individual eyepiece, along with a 5×24 finderscope to aid in the location of objects and The SkyX Level 1 Planetarium Software CD-ROM with 10,000 object database and enhanced images. A great educational tool which allows even the most amateur of astronomers and younger members of the family get to grips with the undiscovered wonders of the night time sky and make the most of this fantastic, high-quality, user-friendly telescope. Product Description When gazing into the night sky with the naked eye only a small handful of the billions of stars in the universe can be viewed and appreciated at any one time, with the majority of other objects of interest such as planets and asteroids being missed altogether except by the most sharp-eyed observer.  FeaturesEasy to assemble 50 mm refractor suitable for celestial and terrestrial viewingPre-assembled, no tool set-up aluminum tripod with accessory tray for convenient storage of accessories3x Barlow lens triples the magnifying power of each eyepieceFully coated glass optical components with high transmission coatings for enhanced image brightness and clarityThe Sky Level 1 planetarium software with 10,000 object database and enhanced images  DetailsBrandCelestronMPN21039ColourblackCategoryElectronicsManufacturerCelestronProduct TypeTELESCOPEUPC782164311023Product Height20.3 cmProduct Width12.7 cmProduct Length83.8 cmWeight907.2 gPackage Weight2.1 Kg
Category: Cameras and Photography:Telescopes and Binoculars:Telescopes
Location: Herne Bay
Click here for more information and to buy.
See below for similar items.

Celestron PowerSeeker 50AZ Refractor Astronomy Stargazing Telescope MPN21039-CGL
£46.99

Celestron 21039 PowerSeeker 50AZ Refractor Telescope
£53.76

CELESTRON Powerseeker 50 Refractor Telescope – Black
£49.00

Celestron 21039 Power Seeker 50AZ Refractor Telescope Tripod Slow Motion Control
£47.29

Celestron 21039 PowerSeeker 50AZ Telescope
£39.00

Celestron PowerSeeker 50AZ Telescope Refractor Astronomical Entry Level 21039
£84.23
See more from eBay…
---
We can't find an exact match in our shopping database. Have a look at the similar items below, or try using the search box.
Items 1 to 15 of 2245

Items 1 to 15 of 2245