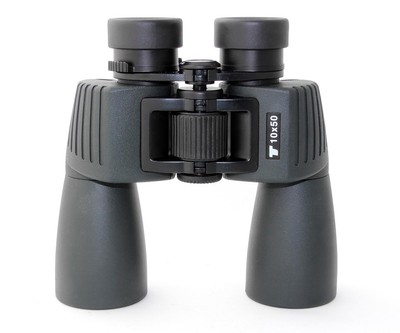 Click here for more information and to buy.
Teleskop-ServiceIt is very robust. Its body is waterproof and rubber armoured. This and the nitrogen filling make the 10×50 WP suitable for hard outdoor use including observing in the rain, sailing trips, trekking, hunting or safaris. It is filled with nitrogen to prevent fogging from the inside and to keep moisture out. The TS 10x50WP binoculars are suited for:Nature Observing / Birdwatching: … The 10×50 is ideal for nature observing of nearby or medium range objects. With its near focus distance of 5 m, you can observe insects from a close distance and at a high magnification, allowing you to see a splendid amount of detail. With its large field of view, it is also easy to locate and follow birds in full flight. Trekking and Hunting: … The 10×50 WP is reasonably shock-proof and waterproof, so it is the ideal companion on your way. This pair of binoclars will keep its full image quality after many years even in hard use. Due to a weight of less than 1 kg, you can take it even on long walking tours. Astronomy: … Astronomy is one of those application where image sharpness towards the edge is rather important for observing extended objects like nebulae, star clusters, structures in the milky way, … The 10x50WP offers an image sharpness usually only found in much more expensive binoculars.Center focus mechanism: Especially for nature observing and hunting, it is important to be able to find focus quickly. The 10x50WP has a center focus mechanism, which means that both eyes are focused by turning a central focusing wheel easily accessible with both hands. To compensate differences between two eyes, there is a right eye diopter adjustment. Warning for Solar Observations: Never look directly at the sun with any telescope or binocular without the proper filters! TS 10x50WP Wide Angle Outdoor Binocular – waterproof and nitrogen filled For selection of further telescopes and accessories, please visit us in our online shop at telescope express.check out my other itemsTeleskop-Service is your competent partner for astronomy, photography and landscape observation.
fascination of space and natureSpecifications: Objective lens diameter: 50 mmMagnification: 10xFocus range: 5 m to infinite distanceExit pupil: 5 mmPrism type: Porro prismPrism glass: BAK4Coating: Full broadband multicoatingTwilight factor: 22.4Eye relief: 19 mm – retractable rubber eyeguard – fully suitable for spectacle wearersField of view: 114m at 1000m (wide angle) / 6.5 true field of viewBody: Aluminium, rubber armouredWeight: 915 gramsFocusing: center focus mechanismTripod connector: yesDiopter adjustment: yesDelivery: 10×50 WP Porro binoculars Dustcaps carrying strap carrying caseThe TS 10×50 from the WP series is an outstanding quality pair of binoculars for hunting, birdwatching, general nature observing and astronomy. Aperture 50 mm – magnification 10x Comfortable viewing and more 3D effect through Porro prism construction Powerful wide-angle binoculars with a field of view of 114 meters at 1000 meters Comfortable view with 19 mm eye relief, even for spectacle wearers No fogging from the inside, due to nitrogen filling Usable in humid environment or even rain – the binoculars are waterproof can be handled easily without a tripod, but also connected to one
Category: Cameras and Photography:Telescopes and Binoculars:Binoculars and Monoculars
Location: Parsdorf – Germany
Click here for more information and to buy.
See below for similar items.
See more from eBay…
---
We can't find an exact match in our shopping database. Have a look at the similar items below, or try using the search box.
Items 1 to 15 of 18435

Items 1 to 15 of 18435