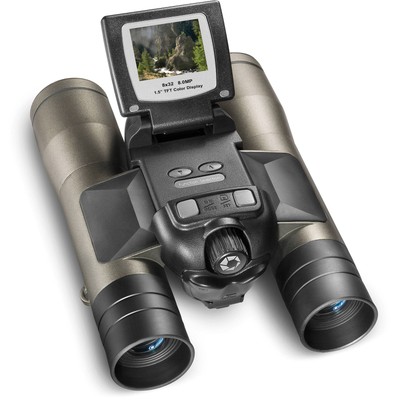 Click here for more information and to buy.
PLEASE NOTE I will post internationally providing buyer pays for postage. Please message me prior to purchase. BARSKAs Point N View is a state-of-the-art integration of high quality roof prism binocular and digital camera that is equally at home on a nature outing, sporting event, or vacation. Instead of packing a separate binocular and digital camera, Point n View gives you the convenience of both in one compact device. Model AH11410, let's you easily view the images on the 1.5″ inch LCD screen. Each Point N View model is packed with features that allow you to see, save, and share your special moments with friends and family. Simply look through the binoculars and record the scene with the digital camera. Its that simple. Once the scene is recorded, you can download it to your PC, edit it with the included software and print it or e-mail it to friends. You can even record video! Selected Point N View models allow you to add a high capacity SD card for even more image storage capacity.The newly designed Point N View binoculars feature a state-of-the-art integration of a powerful 8x32mm binocular and 8.0 mega pixel digital camera. This futuristic integration is ideal for those wanting to save an image or video of whats being observed at a distance.
Barskas new Point N View 8x32mm digital camera binoculars with 8.0 mega pixel digital camera are capable of capturing high quality images and video clips. Pictures and video can be played back on the flip-up 1.5 LCD color display. Model AH11410 features 8x fixed optical magnification with an up-to 4x digital zoom to achieve a maximum overall magnification of 32X. The 8x32mm roof prism optical design allows for comfortable magnified observation for long periods of time without strain on ones eyes. The binoculars multi-coated lenses enhance the image quality when viewing distant objects for a more vivid and sharp 3-D image.
The powerful 8x32mm roof prism binoculars allow one to view objects at a distance 8xs closer then can be viewed with the naked eye. With a minimum close focus distance of five meters one can focus until infinity. The intergraded digital camera features a CMOS image sensor for optimized 8 mega pixel images (3264 x 2448 maximum image size). With a quick change of setting one can take AVI standard format video of maximum 640×480 size, time limit of video depends on SD storage card. All images and video are stored on a removable SD card (not included) up-to 16-gig capacity compatible. This binocular camera is USB adaptable to connect to a PC or Mac as a USB mass storage device to access media files.
Barska has also developed a smaller compact model of Point N View digital binocular with an intergraded camera (Model AB10184). The 8x22mm VGA features a simple point and shot design. The 8x22mm compact binoculars capture VGA (640×480) digital images and AVI format video clips. With an internal mass storage device one can store up-to 16 megabits of data, which can be accessed via USB connection to a PC. Accessories include USB cable, photo manipulation software and carrying case.
Category: Cameras and Photography:Other Photography
Location: Berkshire
Click here for more information and to buy.
See below for similar items.
---
We can't find an exact match in our shopping database. Have a look at the similar items below, or try using the search box.
Items 1 to 15 of 21133

Items 1 to 15 of 21133