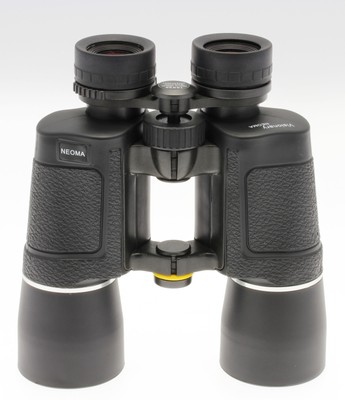 Click here for more information and to buy.
Waterproof – Birdwatching – General Purpose – AstronomyThese Visionary High Definition Neoma 10 x 50binoculars provide excellent value for money with improved definition andclarity. Grab a bargain we only have a fewof these to clear normal price 119.99Featuring highest quality BAK4prisms and multicoated optics for excellent visual performance ensuring abright stable image.These binoculars offerexceptional value with a magnification suitable for most uses including birds,nature, racing, walking, astronomy and most arduous outdoor applications. The rubber armoured fully waterproofbodygives a comfortable feel to the robustly constructed body and nitrogen filledmeans they will not mist or fog on cold days.The 10×50 model is an ideal multi-purpose,all round binocular. The combination of 10x magnification and 50mm frontlens results in a bright image and a wide field of view.
Long eye relief makes these binoculars ideal for spectacle wearers ( just twistthe eyecups down ) and also gives a more comfortable viewing experience withoutspectacles! This feature means the image is projected further from exit pupilenabling users wearing glasses to see the full binocular field of view.Complete with soft case – straps and 10 year guarantee
Magnification 10X Front Lens Dia mm 50 Field of View @ 1000m 98 L x W x H mm 205 x 178 x 68 Weight Grammes 1015
Category: Cameras and Photography:Telescopes and Binoculars:Binoculars and Monoculars
Location: Seaton, Devon
Click here for more information and to buy.
See below for similar items.
See more from eBay…
---
We can't find an exact match in our shopping database. Have a look at the similar items below, or try using the search box.
Items 1 to 15 of 15827

Items 1 to 15 of 15827