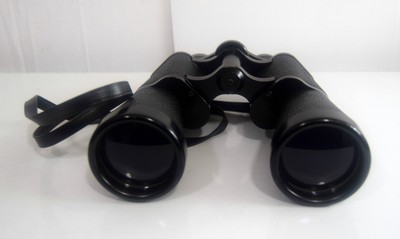 Click here for more information and to buy.
LindseyLodge Hospice Registered Charity 702871
Description New or usedItem:- UsedItem is:- Vintage Prinz Binoculars, Coated Optics 12×50 with Hard Case.Era:- VintageThese Binoculars come with the following features:- 1Coated Optics, 2x Max Magnification, 262 FT at 1000yds.What is included with this item:- One set of Binoculars, 1x eyepiece lens cap and one objective lens cap and a leather neck strap.Case Included:- There is a hard case, black leather with red textile lining.Condition Condition:-The item is in Very Good Used ConditionCase Condition:- The case is in Very Good Used ConditionFaultsAny Signs of damage on it:- NoAny Serious Marks/Scratches on it:- NoAny Missing pieces:- NoMeasurements Size ininches:- 8″ Wide x 8″ HighSize inCm:- 20 x 20cm
Item Weight Weight inGrams Before packaging:-1150g Listed By:- RP
ImportantInformationHere at Lindsey Lodge Hospice we are committed to 100% customersatisfaction
In the event your item doesnt come upto this standard please message us to give us the chance to resolve anyproblems.
If your parcel does not arrive withinthe times scales set out by eBay, Myhermes or Royal Mail please contact us sowe can help in sorting this problem out.
5* feedback is paramount to ourbusiness if you are going to leave below 4* please get in touch with us first.
FAQsCustomerServicePleasecontact us with any questions you have relating to this item. Our dedicatedcustomer service team operate from 9am-4pm Monday Friday and we will respondto your query within 48 hours between these operating times
Payment &DeliveryWe ask thatpayment is made within 4 days of the auction ending via PayPal or Cash oncollection.We willdespatch items within 24 hours of receiving payment via the shipping methodoutlined on your invoice. Collection of the items in person can be made Mondayto Friday 9am to 4pm.
Weare the Official Lindsey Lodge Hospice eBay shopIf youhavent found what you were looking for, but would still like to make acontribution to our work, then please do make a donation via PayPal below.
Remember thatevery 4.50 raised helps to fund a minute of care.
Please Visit ourother eBay storehttp://stores.ebay.co.uk/charity-chic
Category: Cameras and Photography:Telescopes and Binoculars:Binoculars and Monoculars
Location: Scunthorpe
Click here for more information and to buy.
See below for similar items.
---
We can't find an exact match in our shopping database. Have a look at the similar items below, or try using the search box.
Items 1 to 15 of 137009

Items 1 to 15 of 137009