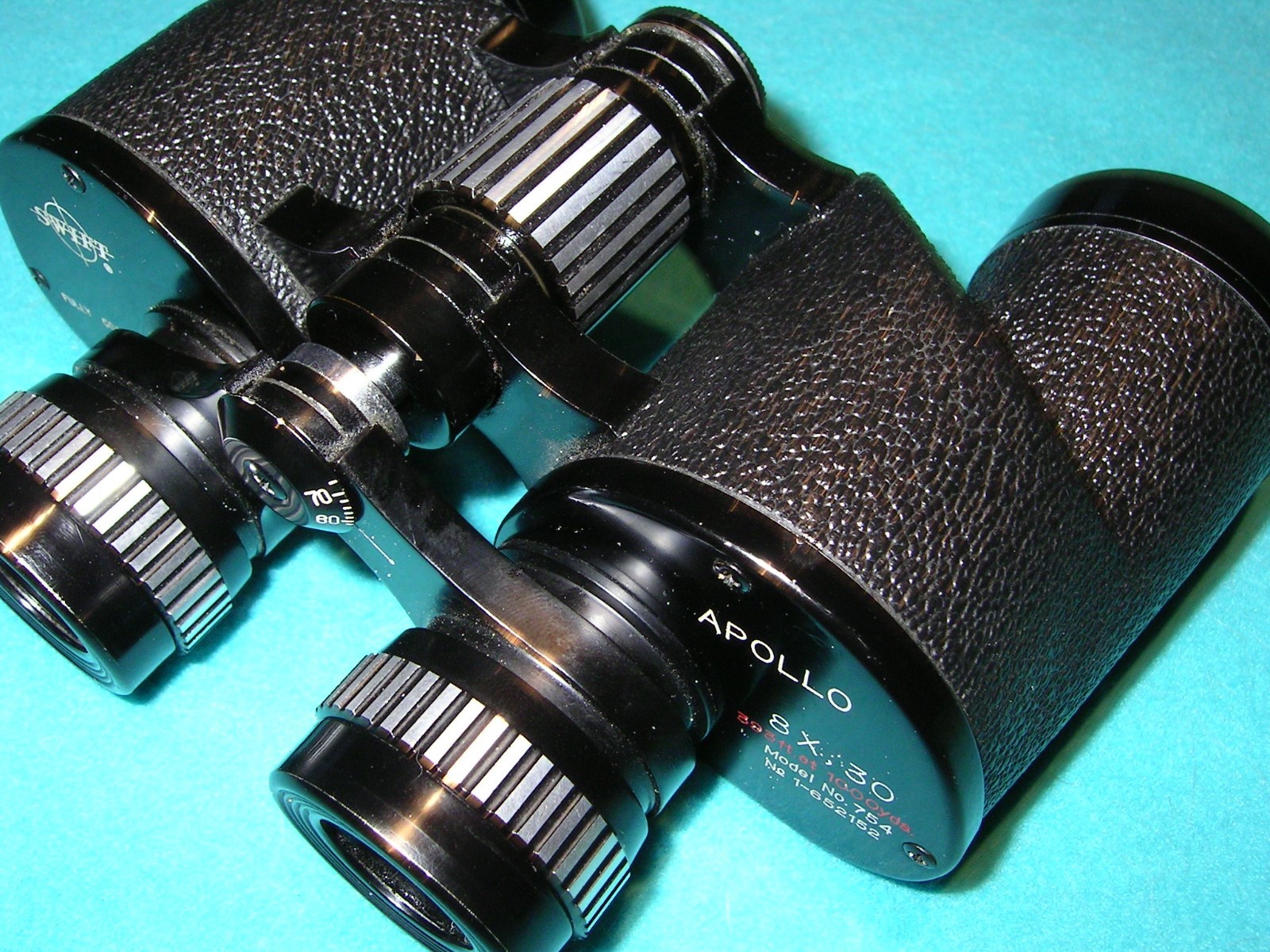 Click here for more information and to buy.
SWIFTbinoculars were the top Japanese made brand in the U.K. in the1960`s, 70`s & 80`s. Selling in top department stores,independent photographic shops and opticians, they were available onmost high streets. ThisSWIFT APOLLOMark I was a very successful model for SWIFT and was in the samefamily as their triton and saratoga binoculars. This example hassurvived very well since 1965, and still delivers sharp and brightimages, and at only 661 grams it is reasonably light weight making itin my opinion a very usable binocular especially if you`re into aretro look.Itfeatures SWIFT`s rigid wind up eyecups which are still working well.It comes with its original case and all straps, both objective lenscaps but only one small cap for the oculars. A new microfibre lenscloth is supplied.Defects?Justa few external marks;some slightinternaldust and haze commensurate with its age; somescuffing and stitch loss to the case lid in particular.itake great care examining, using and describing the binoculars isell, and always get a second opinion. however, i am not aprofessional and my description is based on my experience and honestassessment; most examples i sell are at least 35 years old and theremay be other defects…….also, please remember, everyone`s eyes aredifferent..SPECIFICATION:SWIFT APOLLO(Mk.I) 8 x 30porroprismbinoculars;made in Japan; fullycoated;serial number: 1-652152JE46 JB2;field of view 393feet at 1000 yards; weight 661grams; 1002grams including accessories. Thesebinoculars will be thoroughly double wrapped & packed for thepurchaser and will be sent using a tracked service within the U.K.Carriage prices quoted are to mainland U.K. please contact me fora quote if you non-mainland.Iwill also send world-wideusing E Bay`s GLOBAL SHIPPING PROGRAMME if it is offered for yourcountry for this item.Collectionis welcome.Paypalmuch preferred.Averypopular SWIFT model in its day and perfectly usable today especially if you have an interest in all things retro!!A very sensible BUY IT NOW has been set for this verynice example..orMake me a very close offer.Anyquestions just ask I always respondIhave other good retro binoculars &scopeslisted take a look I will always combine postage.Thankyou
Category: Cameras and Photography:Telescopes and Binoculars:Binoculars and Monoculars
Location: Woodbridge
Click here for more information and to buy.
See below for similar items.
---
We can't find an exact match in our shopping database. Have a look at the similar items below, or try using the search box.
Items 1 to 15 of 159960

Items 1 to 15 of 159960