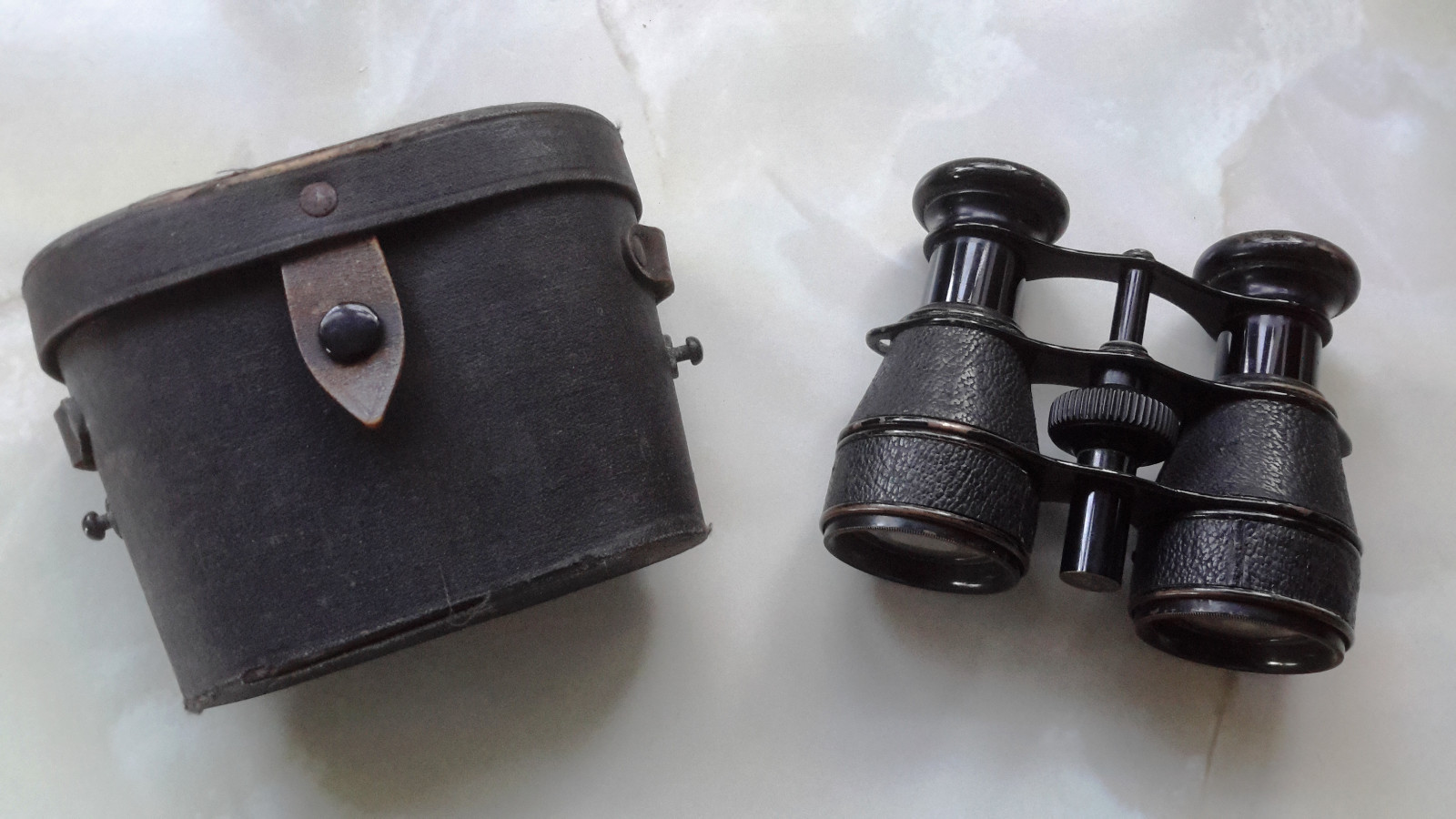 Click here for more information and to buy.
Here we have a vintage pair of opera / theatre glasses in good condition. The optics work fine and produce a good image. The bar holding the eyepieces appears to have a slight bend however it does not detract from appearance or operation.
Could also be used outside as binoculars / astromony glasses however the magnification is not that great.
The case does have a bit of wear and sadly the shoulder strap is missing.
A nice vintage item. Thanks for looking.
UK postage only please. Note to self: in box no. 3.
Notesabout postage, packing, feedback and other stuff: I now list some of my items with Freep&p for UK bidders only. Of coursep&p is not really free, the cost is loaded onto the item start price sothat the postage cost is totally opaque. Sellers automatically gain 5 stars DSR feedback this way. Combining items to save on postage does notapply to free p&p listings. Idislike this approach however eBay rates sellers on p&p costs yet it alsocharges sellers 10% of the total. Movingto free p&p is now the only way for sellers to increase their p&p DSRratings. Free UK p&p disadvantages overseasbidders, who have to pay listed p&p charges. I will therefore offer a discount off thefinal value to all overseas bidders who win. Please do not pay until you receive an invoice from me. If I significantly overcharge on overseaspostage and packing I will refund the difference. For small items I use Royal Mail. For medium sized items I use MyHermes and forlarger items a courier from Parcel2go, typically TNT or UPS. I avoid Yodelwhenever possible as they are completely hopeless. MyHermes is not the fastestcourier but they are cost effective and they are reliable. I use the internationaltracked and signed service from Royal Mail for overseas destinations to avoiditems going astray. This is limited toa maximum weight of 2 kg; items exceeding this limit are for UK purchase only. From Feb 2016 eBay has decided to evaluatesellers performance based on tracking information uploaded (and not whensellers state that an item was dispatched) and/or delivery. I will therefore be phasing out the use ofuntracked second class postage and I regret that the costof tracking will have to be passed onto buyers. This is an unfortunateconsequence of yet another change of seller policy by eBay. I also no longer allow local pick up as aminority of buyers were selecting this option then demanding that the item beposted (in an attempt to gain free postage at my expense). Additionally my personal circumstances do notallow personal pick up sorry. I pack items carefully and securely so thatdamage does not occur in transit. Ireuse packing materials to keep the cost down. Due to an increase in the number of non paying bidders I now only packitems after payment has been received. I am a private seller and only list onfree-listing auctions. I also list Buyit Now as eBay is now offering this format free too. Sometimes I list Buy it Now or Best Offer please send sensible offers and Iam more likely to accept. Lowball offersare likely to irritate – my margins on most items are not that great and I amnot desperate to sell stuff. I am certainly not spending an hour packing somethingfor 1 or 2 profit! I am also agreeable to a private sale offeBay, it is against their rules but I basically trust people and like people totrust me. I sell some itemsspecifically for charity. I sell amixture of my own items and items I have acquired for the purposes ofresale. I run a small private eBaybusiness, mainly in radios and small electrical items such as tape recordersetc. as these reflect my hobby interests. When I sell electrical items I always statethe condition and functionality. Modernitems are generally electrically safe as defined by current legislation whereasvintage items might not be. I alwayscheck and if necessary service items to ensure the correct condition islisted. All electrical items are soldas is and should strictly be PAT tested before being put into service.Although I would never knowingly conceal dangerous electrical faults it is theresponsibility of the buyer to comply with this. Non paying winning bidders are anuisance on eBay. Unfortunately eBaycharges its fees from the moment the auction ends, not from when payment isreceived. Sellers are then forced to gothrough a protracted process to reclaim their fees if the sale fallsthrough. If you do not want an item youwon please send a cancel transaction request (which I will agree to)otherwise I always initiate the non-payment process after a reasonable periodof time and several attempts to make contact. Non paying bidders who do not make contact will not be able to buy fromme in future. I recognise that people change their mind and have no wish toforce a sale through against a buyers wishes. Asking to cancel a sale is perfectly acceptable ignoring messages andnot responding so that I do not know what is happening is not ! I do accept returns, normally within a 14day period (after which it is assumed that you happy to keep the item). I ask buyers who no longer wish to keep itemsto please return the item in the same condition as sent, and to pay the returnpostage (the exception is if items are unusually not up to standard and fail tomeet my description please just contact me in this case). Refunds are most easily processed via PayPal. I used to acknowledge all purchaserswith a thank-you email, however I found out that eBay disadvantages sellers whodo this. I have therefore stopped thispractice. I am not being rude, justfollowing another requirement imposed on sellers from eBay. I try to ship items within a 2 working dayperiod. If you are a new member with 0 feedbackplease contact me prior to bidding. Ireserve the right to cancel bids from members with 0 feedback because it isoften these bidders who fail to pay. I now require instant payment for BuyIt Now purchases. I have had to moveover to this because of time-wasting non-payers who force sellers to initiatethe non payment process. If you live outside of the UK please do notbid on my UK only auctions as this causes postage problems. Since I only post to Paypal registeredaddresses it is not sufficient to have a UK address if you live abroad and haveyour accounts registered abroad. Bidderswho do not observe this will have their bids cancelled and their usernamesadded to my blocked bidder list. Forsmaller items such problems do not arise so worldwide bidders are welcome. I am totally honest and I will try toresolve problems the best I can sometimes things do go wrong but I am readyto put them right. If you have ever left negative feedback for anotherseller please contact me prior to bidding. I reserve the right to cancel bids for buyers who have left sellersnegative feedback. If I discover my DSR ratings falling dueto low star ratings and I can trace it to you your eBay ID will be placed in myblocked list preventing you from buying from me again. I work hard to ensure that items aredispatched in good time if a courier is slow to deliver that is beyond mycontrol. Postage costs are determined by the service offered and are typicallyhigher for overseas destinations where I now insist on tracking. Please do not complain about the postagecosts afterwards as I do not make any profit on postage and packing; in fact when fees are factored in I usuallymake a small loss. If you leave negative feedback for me ourtransaction is over and you will never buy from me again. I periodically turn on and off my shopholiday settings to manage my workload. If too many items are sold in a short period of time I cannot cope ! If you find the shop closed please checkback later. Finally, apologies for having to state allthe above most buyers are perfectly reasonable but there is a minority whocause unnecessary trouble for sellers. If a problem arises just contact me to work out a solution. Thank you, good luck bidding and enjoy usingeBay. Its fun !
Category: Cameras and Photography:Telescopes and Binoculars:Binoculars and Monoculars
Location: Sussex by the Sea,
Click here for more information and to buy.
See below for similar items.
See more from eBay…
---
We can't find an exact match in our shopping database. Have a look at the similar items below, or try using the search box.
Items 1 to 15 of 137363

Items 1 to 15 of 137363