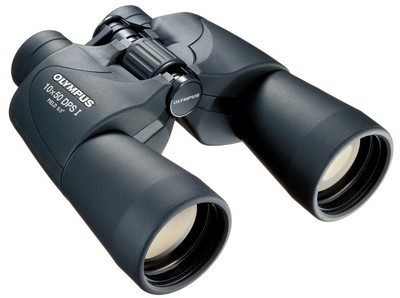 Click here for more information and to buy.
Olympus Binocular Standart 10×50 Plus Neck Strap Case & Protective Lens Covers
Product Description
Armouring: CompoundAutofocus: NoType Standard/Compact: StandardType of Prism: PorroZoom: No
Offering a wide angle field of view for tracking fast moving subjects and a near focus distance of six metres, these standard 10×50 DPS I porro prism type binoculars are pitched at nature enthusiasts wanting to get closer to skittish wildlife, plus sports enthusiasts wanting to pull the action that much nearer for a better view.Boasting a durable, high quality finish with the advantage of sure grip rubber coating, these stunning binos come with high-grade optical components to ensure a perfect view even in low light conditions.Further desirable qualities include aspherical lens elements for minimal distortion, anti reflective lens coating for better image brightness, contrast plus quality, along with UV ray protection for worry-free viewing. Peace of mind and years of pleasure are further guaranteed thanks to a 25-year European warranty.
This particular model offers a 10x magnification and a 50mm objective lens diameter. As it sounds, the 10x magnification produces an image that appears as if the user were 10 times closer to their subject, while the objective lens diameter refers to how much light can be gathered to form that image. While for daytime use a lens diameter of 21 to 25mm is useful, for night-time viewing something between 35 to 50mm is recommended. Therefore the 50mm specification here indicates excellent suitability for low light visualisation.Also worth considering for low light work is the exit pupil. Here that is 5mm, which for 10×50 binoculars is arrived at via 50 divided by 10 = 5 exit pupil in mm, so beyond the 2-3mm which is generally thought of as being suitable for daylight use. Another thing to take into account is the field of view, which here is 114 metres, and is defined as the width of the viewable field at a distance of 1000m from the point of observation.
Offering an 10x magnification to bring faraway points of interest that much closer plus a 50mm objective lens diameter, the Olympus 10×50 DPS I Binoculars incorporate fully coated lenses to deliver maximum image brightness, visual impact and image defining contrast.Fast and easy focusing is provided courtesy of a large, centrally placed knob. The 10×50 DPS I model further sports a 12mm eye relief for extra comfort, plus diopter adjustment for comfortable viewing without glasses.
Boasting a tactile and ergonomic design and weighing a solid feel 855g, the Olympus 10×50 DPS I measurements are a manageable 191x178x63mm, while the package includes a neck strap, case and protective lens covers.In summary, with a lens configuration of 5 elements in 3 groups, and a 12mm eye relief, the field of view at 1000m is 114m. The actual field of view is 6.5 while the apparent angle of view is 65.0.These are also binoculars that will repay your original investment with years of good service. A case in point: a 25-year warranty is included with any purchase.
Box Contains:1 x Olympus Binocular Standart 10×50 Plus Neck Strap Case & Protective Lens Covers
Category: Cameras and Photography:Telescopes and Binoculars:Binoculars and Monoculars
Location: London
Click here for more information and to buy.
See below for similar items.
See more from eBay…
---
We can't find an exact match in our shopping database. Have a look at the similar items below, or try using the search box.
Items 1 to 15 of 185919

Items 1 to 15 of 185919