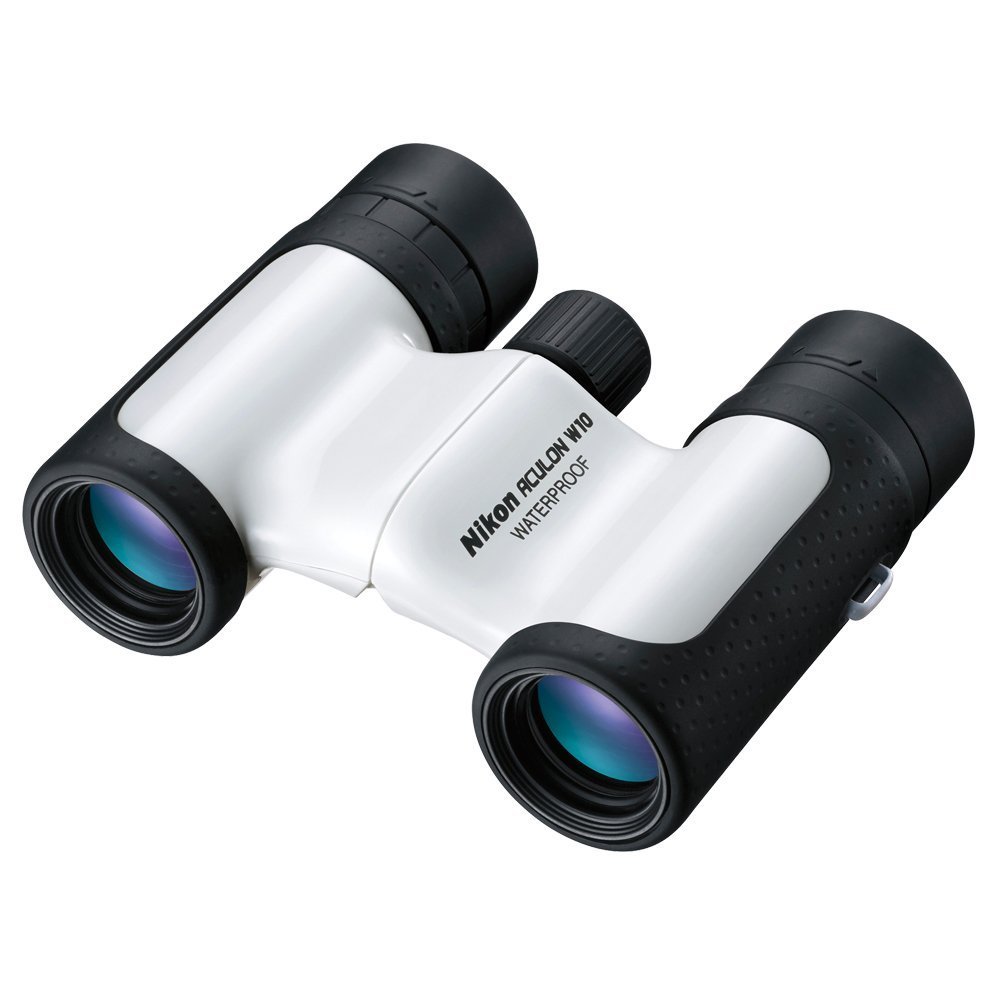 Click here for more information and to buy.
Nikon Aculon W10 8×21 Binocular – White / NEW
From the manufacturerView largerMeeting the requirements of demanding outdoor activities, Nikon present the Aculon W10 binoculars. Compact and practical with a single-hinged, sporty design, these high-quality sports optics combine precision technology, design and functionality to suit individuals on the lookout for their next big adventure. Whether you like trekking and camping, visiting open-air events, stadium concerts or spectator sports, these lightweight binoculars are the ideal accessory for outdoor fun.Striking ViewsThe name ACULON was coined by combining the terms accuracy and precision to create a name that represents Nikon's desire to bring detail to life through the use of binoculars. With the addition of the Aculon W10 to the Aculon range, Nikon continue to follow the brief. At the two magnification powers of 8 x and 10 x these expertly crafted sports optics create stable images ideal for handheld outdoor use. Employing an objective lens diameter of 21 mm in a high-quality roof prism design, the optical path in these high-performing binoculars optimises use of the compact dimensions, while the aluminium reflective prism coating helps deliver high-resolution images. In addition Nikons multilayer lens coating ensures superior light transmission resulting in bright, sharp images even in poor light conditions.Environmental FocusWhether youre focusing on moving wildlife or a night at the opera, Aculon W10 binoculars provide an astonishing view. An impressive close-focusing distance of just 3 metres provides superb flexibility, allowing use with less-distant subjects like museum artifacts. Using Eco-glass, Nikon hasnt compromised on quality. Ensuring all lenses and prisms are 100 per cent free of lead and arsenic, you get the very high results from these recreational binoculars while preventing damage to the very environment they allow you to marvel at.Highly DurableReady for whatever climatic condition throws at them, the Aculon W10 models employ a waterproof and fog-free construction. With a robust housing, the binoculars are waterproof up to 1 metre for 10 minutes and to prevent fog or mould from forming inside the optical system, Nikon have used O-ring seals and nitrogen gas, so a sudden change in weather wont cloud your view.Camping, HikingMarine, Sports FishingSpectator SportsTravellingTheatreCategories covered by the Aculon W10 SeriesDurability and portability are the ideal combination when enjoying rugged outdoor activities. Models which feature rubber armouring and waterproofing are ideal.Durability and waterproofing are must-haves with a wide field of view advisable. For boat use, Vibration Reduction is recommended.A wide field of view covers the playing area with 7x-10x magnification best for fast moving sports. For an enhanced view, zoom-type binoculars are extremely practical.Durable, compact and lightweight binoculars with medium magnification are ideal travelling companions.Magnification of 4x-8x is recommended for general theatre use. For focusing in on individuals 7x-10x is most suitable.Defined Vision with ComfortFor ease of use, Nikon have provided features to ensure you get the very high results from these compact binoculars. The rubber-coated grip provides a firm and comfortable hold to ensure better handling in all kinds of weather, while the larger focusing ring makes for smooth operation. Whether you wear glasses, contact lenses or use your binoculars without either, youll have the better view of your chosen subject. The soft turn-and-slide rubber eyecups can either be positioned outwards to provide a good eye rest or retracted when using sunglasses or other eyewear.Pocket-size FittingNikon continue to deliver first class optical technology in small packages for convenient living and the Aculon W10 is no exception. Weighing around 215 g and measuring just 34 x 110 x 87 mm, the Aculon W10 is designed for portability as well as a fun-filled social life. Available in a selection of striking colours, the 8 x 21 model comes in yellow, pink or white while the 10 x 21 model comes in camouflage, black or white.With Aculon W10 binoculars from Nikon you get high-performance lens technology, ergonomic design and elegance.
Product code:N41G100118
Category: Cameras and Photography:Telescopes and Binoculars:Binoculars and Monoculars
Location: Ashton-under-Lyne
Click here for more information and to buy.
See below for similar items.
See more from eBay…
---
We can't find an exact match in our shopping database. Have a look at the similar items below, or try using the search box.
Items 1 to 15 of 124976

Items 1 to 15 of 124976