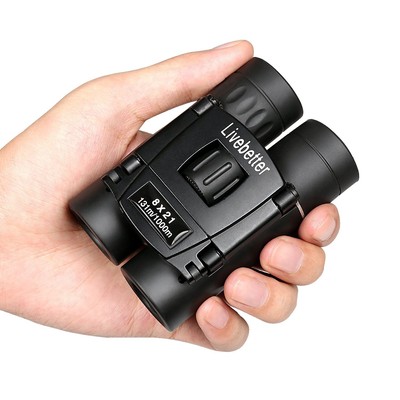 Click here for more information and to buy.
Mini Binoculars for Adults and kids High-Powered Waterproof Fogproof with Low Light Night Vision, 8×21 portable Pocket Folding – LivebetterDescriptionSmall and exquisite telescope, let you enjoy unlimited- Livebetter Cost-effective telescope, so that all things are in your eyes, you have tohave!Portable wide-angle, easy to operate, give you an unparalleled visualexperience, high-definition wide-angle imaging, no color high-definition HDresolution green optical glassPowerful: Watching the concert, footballbasketball rugby and other exciting moments, the scenery is in sight, and veryclearStrong and Sturdy:All metal structure, very durable, the outside is anatural anti-skid rubber, feel very comfortable, a certain degree ofwaterproofPortable small, Happy life Accompanied by the world at a glance,with eyes to travelCore Strengths:1)Exquisite appearance, high-gradeatmosphere New lines, gorgeous exquisite design, unique anti-skid texture,high-quality anti-skid technology, outdoor easy to carry2)High-end qualitygold magnificationUsing high-power design, you can see the distance farther,and to ensure clarity and stability3)BKA4 high-definition prism Full view,transparent and bright, no dark side, high-quality telescope iconicconfiguration4)Multi-layer broadband green film objective lens and high-definition blue film eyepiece,Effectively reduce eye fatigue color is brightand good light transmittance no color difference,image clear, sharpProductSpecifications:Magnification:10x25Caliber of object lens: 25mmDiameter ofocular: 12mmMaterial of prism: BAK4Ocular coating: FMCObject lens coating:FMCFocusing system: Central FocusingWater resistant and fog resistant: yesNetweight of telescope: 0.55poundsDimension of telescope: 4.33 inch x4.53 inchx1.38 inchPackage Includes:1 x Binoculars1 x Neck Lanyard1 x Carrying Bag1 xLens Cleaning Cloth1 x instruction book1 x color boxFeaturesExquisite appearance portable:Gorgeous exquisite design, unique non-slip texture, high-quality anti-skid technology, outdoor easy to carry, it is your ideal travel partnerHigh-end quality ultra-clarity: Portable wide-angle,easy to operate high-definition wide-angle imaging, 7-9 times magnification and 21mm objective lens No color difference High-definition HD resolution lens,Wide field of view,131m/1000m Giving you an unparalleled visual experienceStrong and Sturdy: all-metal construction is very durable, high-grade pure rubber leather feel comfortable,It is a perfect gift choiceApplication:Perfect for adults,kids,concerts, theater,opera,plays,shows,travel,hiking,camping,sport events ,bird watching ,etc.–any short distance viewing.Portable security to enjoy life One year warranty, accompanied by the world at a glance, with eyes to travel, so that all things are in your eyes, you worth it!Product DetailsBoxed-product Weight: 159 gItem model number: 001Shipping & HandlingOrders are shipped within one day and tracking information is provided as soon as it is available from our carriersPlease ensure the correct shipping address is provided at the time of purchase. We cannot correct your address after purchase. We will not be responsible for incorrect addresses or undeliverable addresses. Return PolicyReturns within 14 days are excepted and a 15% restocking fee will be charged.
Category: Cameras and Photography:Telescopes and Binoculars:Binoculars and Monoculars
Location: GB
Click here for more information and to buy.
See below for similar items.
See more from eBay…
---
We can't find an exact match in our shopping database. Have a look at the similar items below, or try using the search box.
Items 1 to 15 of 346121

Items 1 to 15 of 346121