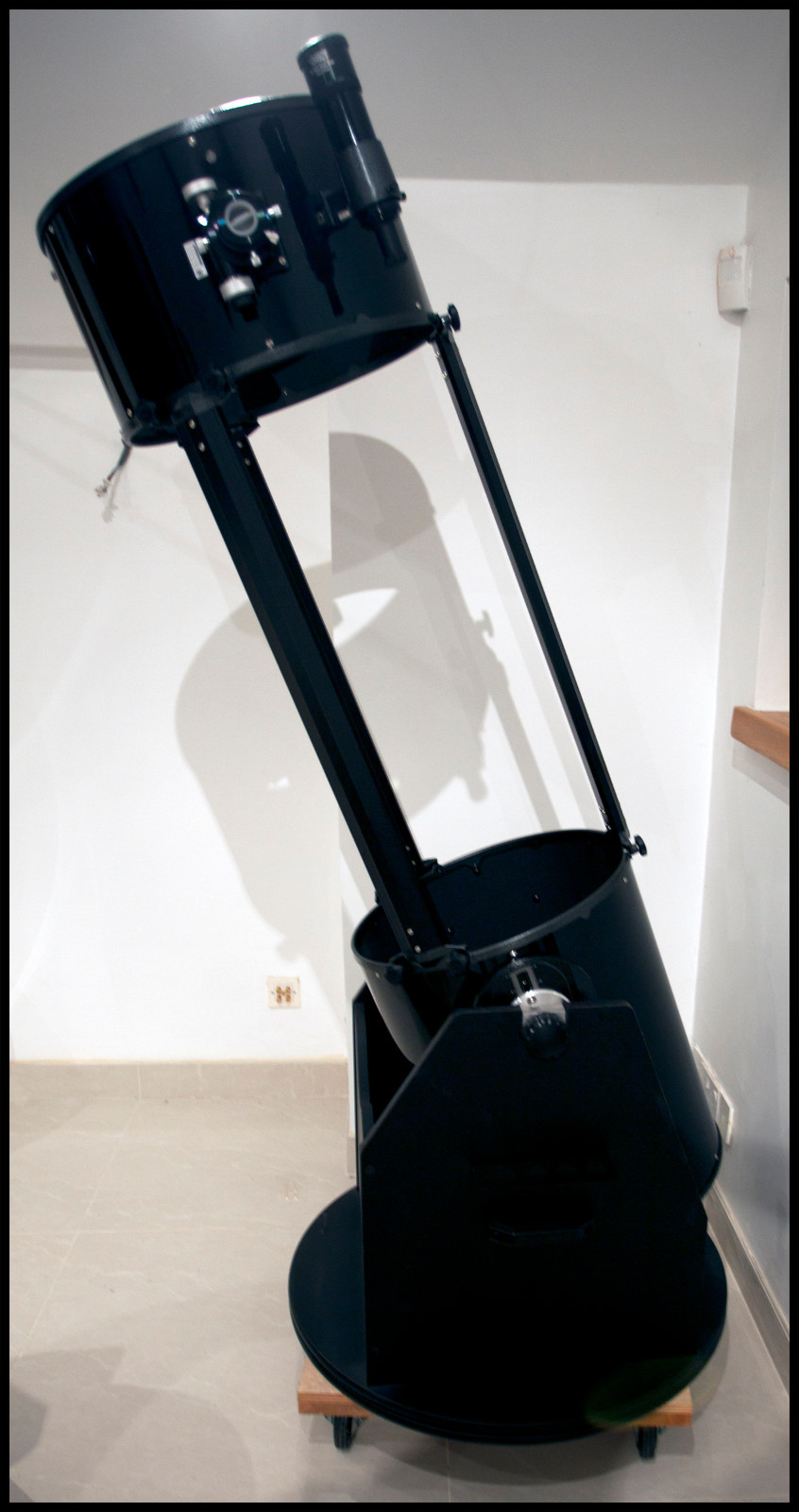 Click here for more information and to buy.
Beautiful 16″ (400mm) f/4.5 reflector on super-smooth Dobsonian mount. Over 1500 new.
Less than two hours use, consequently it's almost as new since planned observatory was re-purposed and so has always lived in my dining room.
I did my degree in astrophysics and missed seeing the night sky so bought the best telescope I could afford that could reveal deep space objects, which can't be viewed with smaller 12″ telescopes, but unfortunately my situation has changed.
Rated 5/5 by Sky at night magazine: http://www.skyatnightmagazine.com/review/telescopes/revelation-16-inch-f45-m-crf-truss-dobsonian.
Mirror is BK7 optical glass and is figured to maximum 1/12 wavei.e. it's very good.
Has solidly engineered Crayford focuser with fine adjust, with no play.
8x50mm fully coated achromatic finder with reticule.
Mirror cover to protect from dust and accidental damage.
Also included are:
Powered mirror cooler.2-inch, 30mm focal length, wide-field Superview x60 eyepiece. (Still boxed).
1.25-inch, 9mm Plssl x200 eyepiece.(Still boxed).
2-inch, 35mm extender-adaptor.(Still boxed).If it goes for a fair purchase price I'll also throw in a 2x Barlow lens and laser collimator. You will need a hatchback or van to collect as it is quite large, though it does disassemble into smaller units.
Category: Cameras and Photography:Telescopes and Binoculars:Telescopes
Location: Newport
Click here for more information and to buy.
See below for similar items.
See more from eBay…
---
We can't find an exact match in our shopping database. Have a look at the similar items below, or try using the search box.
Items 1 to 15 of 15434

Items 1 to 15 of 15434