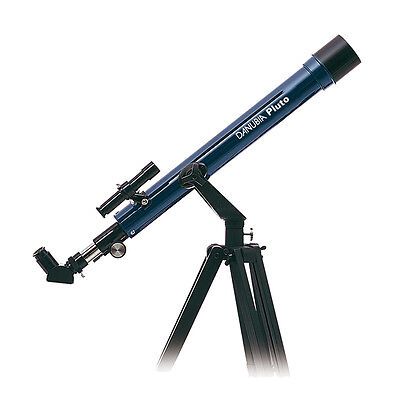 Click here for more information and to buy.
Microglobe Microglobe AboutContactFAQHelp Call Us On 02072406774 From 9:00AM – 5:30PM Monday to SaturdayYou Can Also Collect Your Order From Our Central London ShopDescriptions Dorr Danubia Pluto Refractor Astro TelescopeFeaturesPerfect for both terrestrial and celestial observationProvided with a finderscope to help with alignment and accurately locating objectsHas an objective lens that collects more light that allow users to see objects in the night skyAlso includes accessories tray, two eyepieces, 2x Barlow lens and a 90 degree diagonal mirror Ideal telescope to begin a new hobby and supplied with the tripod which is approximately 130cm tall Dorr Danubia Astro-telescope has a superb 48-100x magnification range, which can be expanded using additional accessoriesIt will show the phases of Venus, some lunar craters and the rings of Saturn, depending on atmospheric conditions and local light pollutionSpecificationsMount / Tripod: AluminiumLens: 50mmFocal Length: 600Focal Ratio: 1:2Accessory Mount: 1 inchEyepiece / Magnification: H6/100x H12.5 / 48xTube Length: 51cmFinder Scope: 2x20Weight App: 2.2kgKit ContentDorr Danubia Pluto Refractor Astro TelescopeAluminium Tripod Accessories Tray 2x Finderscope Two Eyepieces2x Barlow Lens90 Degree Diagonal MirrorUser Operating / Instructions ManualManufacturers Warranty
Category: Cameras and Photography:Telescopes and Binoculars:Telescopes
Location: LONDON, London
Click here for more information and to buy.
See below for similar items.
See more from eBay…
---
We can't find an exact match in our shopping database. Have a look at the similar items below, or try using the search box.
Items 1 to 15 of 14703

Items 1 to 15 of 14703