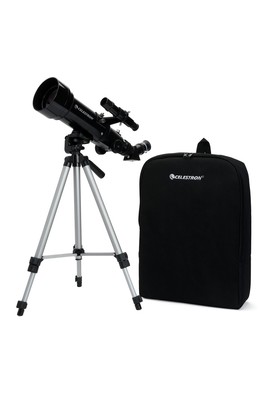 Click here for more information and to buy.
Celestron Travel Scope 70 Telescope
Product Features Telescope diameter: 10 mm Colour: Silver Impedance: 16 ohm Product Specifications Product Dimensions: 45.7 x 17.8 x 35.6 cm ; 1.5 Kg Boxed-product Weight: 3 Kg Item model number: 21035-CGL Why you Should Buy from Us?
Trusted Seller, Great Feedback Quick Shipping and Tracking HUGE Discounts Excellent Returns Policy The BEST Customer ServiceShipping & Returns We Ship Worldwide! 30 Day Money Back Return Policy Items Shipped Fast & Free! Product Description Style Name:Travel Scope 70 Outfit Compact and portable,the travelscope is made of high-quality materials to ensure stability anddurability. With high optical performance, it's suitable for severalastronomical applications. It features an optical tube with 70 m opening and400 mm focal length. A specially-designed backpack holds the telescope andaccessories. Manufacturer's Description Star Spotting on the GoThis telescopewas designed with traveling in mind while offering exceptional value. TheTravel Scope is made of the highest quality materials to ensure stability anddurability. All this adds up to a telescope that gives you a lifetime ofpleasure with a minimal amount of maintenance. Featuring a compact andportable design with ample optical performance, the Travel Scope is ideal forterrestrial as well as casual astronomical observation.With all coated glassoptimal elements for clear, crisp images and an erect image diagonal so thatyour views are correctly orientated, you will find that nothing come betweenyou and a perfect view of the stars, with the smooth functioning altazimuthmount with easy pointing so you can easily locate items of interest and seeall the great sights of the sky.Super fast and easy to set up with no toolsrequired, the travelscope comes with its own preassembled aluminium full sizephotographic tripod to support the scope whilst in use and ensure a stableplatform for a better viewing experience. In addition, both telescope andtripod fit inside the handy custom backpack for convenient and easy travellingand storage so that you can take it with you wherever you go to view the skiesfrom a whole new perspective.The Sky X First Light Edition CD-ROM is alsoincluded with this product. A computerized sky map that features a 10,000object database, 75 color images, horizontal projection, custom sky chartprinting, and zoom capability. A fun, useful and educational product. See allProduct description
Thank You For Your Business!
Category: Cameras and Photography:Telescopes and Binoculars:Telescopes
Location: GB
Click here for more information and to buy.
See below for similar items.
See more from eBay…
---
We can't find an exact match in our shopping database. Have a look at the similar items below, or try using the search box.
Items 1 to 15 of 22123

Items 1 to 15 of 22123