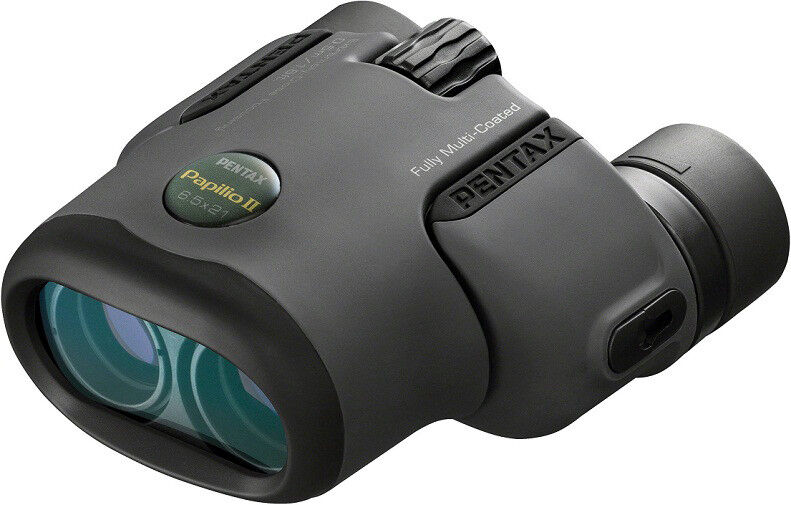 Click here for more information and to buy.
    You can collect your order from our Central London Shop.
    We are open From 9:00AM – 5:30 PM Monday to Saturday.  Buy With Confidence We want to provide the best service and 100% Customer  Satisfaction to you 
  Delivery CostUK: Free
For Out Side UK Depends Upon Item & Destination         
  Payments We AcceptPayPal Bank-to-bank transfersDebit Card Product DescriptionPentax 6.5×21 Papilio II Porro Prism Binoculars : The compact and lightweight 6.5×21 Papilio II Binocular combines aspherical optical elements and BAK4 Porro prisms to deliver edge-to-edge image sharpness. The optical elements are also fully multicoated to provide a high transmission of light. With a 6.5x magnification and 21mm objectives, a notable medium range magnification, insignificant image jitter due to unsteady hands, and a compact form factor is offered. You can easily spot targets with a wide 7.5 angular field of view and quickly bring them into focus with a center focus wheel. Fully multicoated optical window provides a high transmission of light and produce possible brightest views. In addition to observing distant scenes, birds and game, the minimum focus of 0.5m allows to study in detail close objects like butterflies, animal footprints, marks or landscape features due to its Convergent lens optical system engineering. To reduce image jitter while observing distant objects or for prolonged observations it is recommended to connect the binocular to a tripod via an integrated 1/4″-20 socket. The binocular also features a 3.2mm exit pupil, a 15mm eye relief, an interpupillary and a diopter adjustments. The binocular is very compact, lightweight, and features a single piece frame that houses objectives, which allows for a synchronized interpupillary adjustment. High grade tough rubber covered exterior provides a sure grip and protects the internal mechanisms. To accommodate eye glasses wearers, the binocular offers twist-up rubber eyecups. Also included are a carrying case, a neck strap, and eyepiece covers. Key FeaturesIdeally suited for viewing insects, birds, artwork or any other object at close rangesFast and easy centre focusing system for ease of handlingAspherical optical elements offer edge-to-edge image sharpnessSingle piece objectives' frame allows for a synchronized interpupillary adjustmentLightweight, sleek, contemporary ultra-compact body with uni-body constructionConvergent lens optical system engineering, allows user to focus down up to 1.6 feetRevolutionary dual-axis, single body housing with synchronized eye-piece adjustment to assure correct optical alignment for comfortable viewingHigh grade tough rubber covered exterior provides a sure grip and protects the internal mechanismsFully multicoated optical window provides a high transmission of light and produce possible brightest viewsIntegrated 1/4″-20 socket to tripod mount it on a tripod for stress and hand free long session observationKey SpecificationModel6.5×21 Papilio IIPrism TypePorro PrismMagnification6.5xObjective Lens21mmObjective Lens Construction2 Elements in 1 GroupExit Pupil3.2mmLinear field of view at 1000m131mAngle of View Actual7.5Eye relief15mmMinimum Focusing Distance50cm / 0.5mRelative Brightness10.2Eyepiece RingHelicoid TypeFocus TypeCentreTripod MountYesDimensions4.48 x 4.43 x 2.1″ / 11.38 x 11.25 x 5.33cmWeight289gKit ContentPentax 6.5×21 Papilio II Porro Prism BinocularsNeck StrapCarrying CaseEyepiece Lens CapUser Operating Instructions ManualManufacturers WarrantyDelivery Time & CollectionDelivery Time
Usually items despatched within 24 hours after payment has been received also Items can be collected from our retail shop in London.
Deliveries sent by Royal Mail, DPD and UPS (UPS only for Out  Side UK) Standard, Recorded, Special and International Tracked &  Signed for depends upon item or as per customer request.
If item gets lost in the post (very Rare), buyers must wait 15  working days for UK & Ireland and at least 21 working days for  International after item was despatched before the item can not  be declared lost as per courier policy. 
If Still not arrived after this time we will provide a  replacement (or a refund if no further stocks are available).Postage DiscountPostage discount is available on all items (Multiple Purchase).Return & RefundBuyer can return an item within 30 days after purchase date UK  and 30 days for international.
Buyer must contact within 14 days after purchase date for UK and  20 days for international to Return an item.
Full refunds will be given if the item is faulty or is not as  described.
Item must be return in the same condition as it was sent.
If a customer return an item due to Order by mistake or does not  like it then postage cost will be deducted. 
Return item via eBay.Your FeedbackWe appreciate your cooperation by leaving us a Positive  feedback after receiving your item and happy with your  purchase. We pride ourselves on offering excellent customer  service and our reputation is very important to us. In the  unlikely event you are not satisfied with the purchase, please  contact us and we will try our best to resolve the issue. If you  feel aggrieved in any way, PLEASE CONTACT US FIRST before  posting a Negative feedback or opening case, as all  problems can somehow be resolved.
Category: Cameras and Photography:Telescopes and Binoculars:Binoculars and Monoculars
Location: LONDON, London
Click here for more information and to buy.
See below for similar items.
---
We can't find an exact match in our shopping database. Have a look at the similar items below, or try using the search box.