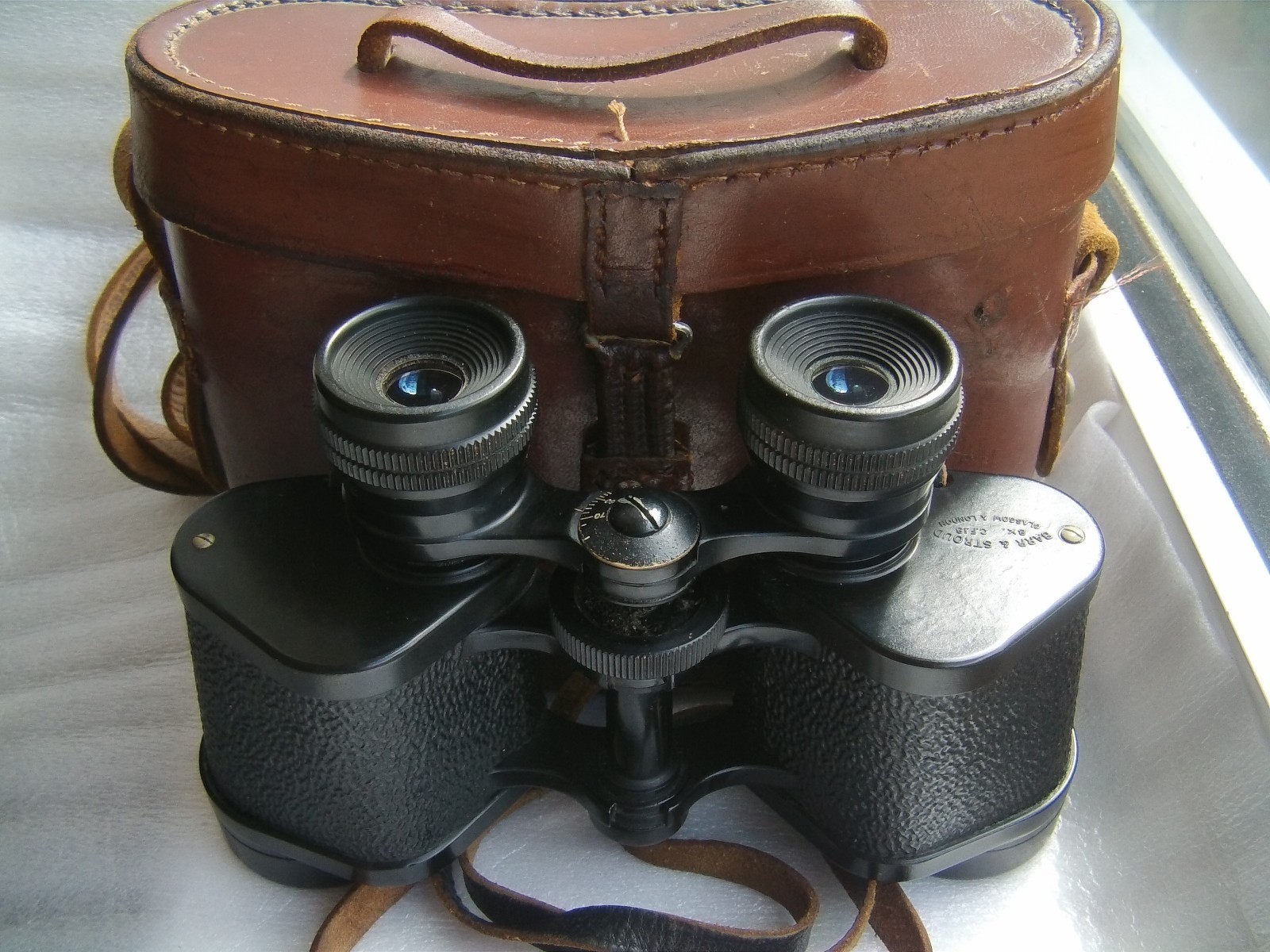 Click here for more information and to buy.
Genuine  Barr and Stroud Classic British Quality 8×30 Coated  Binoculars , with   Barr and Stroud Lined Case and adjustable Leather straps  (Please examine the pictures).Barr and stroud were based in Glasgow and London and  produced many fine british binoculars before and after the war..The very first binocular to spot the German Battleship "Bismarck" was a Barr and Stroud.They rank among the very best Quality British binoculars,.   These  Vintage (1953) Genuine British 8×30 binoculars  are in very good   Mechanical and Optical condition for their age with Barr and Stroud Lined Case  and strong Leather  straps They are a must for every collector and enthusiast.  (Please examine the  actual photographs).   Lenses are extremely clean and scratch free..    Internally they have No Chips or Glass Damage – (PLEASE EXAMINE THE ACTUAL PICTURES) they  give a very pleasant sharp wide bright view , comparable with any Continental or German maker..   Focus adjustments  are very  smooth and easy ,correct and slop free. Centre hinge is free and correct .Right eyepiece adjusts smoothly  They are Spotless internally with No haze ,dust ,fungus or chips or cracks.. However the left Beauty ring (lens cover) has a crack in the plastic which is Cosmetic only  (Please see pictures 2,7 and 9) The beauty rings can be replaced or unscrewed without affecting the superb views in the least .. Perfectly collimated ,No Double vision, no problems. Lined Barr & Stroud case and strong adjustable straps have wear (after 65 years) but are still serviceable with working strong buckle and hinge  and protect the binoculars well
Although photographed and described accurately,these binoculars are vintage and naturally have time related  wear and tear etc so  take time to examine the 12 Actual pictures carefully for suitability – before buying. Please note Leather and other materials were included at the time of manufacture which may have natural odours etc which may be offensive to some ethnicities.(But i love their smell)  Any Questions please ask..,Posted well wrapped in ONE working day Please see my Feedback and other nice binoculars 
Category: Cameras and Photography:Telescopes and Binoculars:Binoculars and Monoculars
Location: Cleveland
Click here for more information and to buy.
See below for similar items.
See more from eBay…
---
We can't find an exact match in our shopping database. Have a look at the similar items below, or try using the search box.
Items 1 to 15 of 166705

Items 1 to 15 of 166705