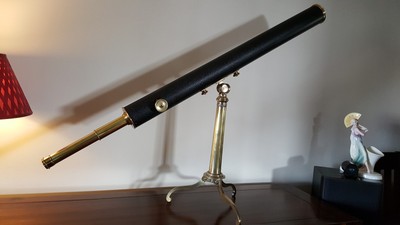 Click here for more information and to buy.
ANTIQUE BROADHURST CLARKSON, BRASS, 3-INCH ACHROMATIC REFRACTOR LIBRARY TELESCOPE.CIRCA 1910 STUNNINGANTIQUE BROADHURST CLARKSON BRASS 3 INCH LIBRARY/TABLE TELESCOPE, THISBEAUTIFUL INSTRUMENT IS CONSTRUCTED OF BRASS, THE MAIN BODY/TUBE HAS A BLACKWEATHERPROOF COATING AND IS FITTED WITH A RACK AND PINION TYPE FOCUSINGMECHANISM, FURTHER FOCUS ADJUSTMENT IS OBTAINED BY THE EYEPIECE TUBE EXTENSION,THE ACHROMATIC OBJECTIVE LENS IS HOUSED IN AN EASILY REMOVABLE BRASS CELL (FOR CLEANING I WOULD ASSUME). THETELESCOPE SITS ATOP IT`S HEAVY BRASS TRIPOD PILLAR STAND WITH RETRACTABLE LEGSAND ENABLES THE SCOPE TO MOVE VERTICALLY AND HORIZONTALLY, ENGRAVED AROUND THEBODY CAP IS; BROADHURST, CLARKSON &Co., 63 FARRINGDON Rd., LONDON, E.C. THE TELESCOPE COMES COMPLETE WITH TWOBRASS EYEPIECES AND A DARK BLUE SUN FILTER. DIMENSIONS: TUBEBODY LENGTH = 35,5/8″ (90.5cm) TELESCOPEFULLY EXTENDED = 46,7/8″ (119cm)PILLARSTAND = 19,5/8″ (50cm)OBJECTIVELENS CELL DIAMETER = 3 (7.6cm) ALL MEASUREMENTS ARE APPROXIMATE! CONDITION:THETELESCOPE IS IN SUPERB CONDITION, THERE IS ONE MINOR DENT TO THE MAIN TUBE BODY WHICH IS VISIBLE IN ONE OF THE PHOTOS, SOME EXPECTED RUBBING MARKS TO BRASS EYEPIECE EXTENDER AND FOCUSINGTUBE, THE OBJECTIVE LENS LOOK TO BE IN EXCELLENT CONDITION, CLEAR, CLEAN ANDFREE FROM ANY CHIPS OR CRACKS, THE RACK AND PINION FOCUSING MECHANISM WORKSFINE IF JUST A LITTLE TIGHT.THEBRASS PILLAR STAND IS IN LOVELY SHAPE, QUITE HEAVY AND VERY SOLIDLYCONSTRUCTED, IT`S BEEN WELL USED AND HAS A LITTLE WELDED REPAIR TO THE UPPEREND OF THE POST, BOTH VERTICAL AND HORIZONTAL MOVEMENT IS VERY SMOOTH AND CANBE ADJUSTED AS DESIRED, INTERESTING WITH THIS STAND IS THAT THE MOUNTINGBRACKET HAS TWO PAIRS OF HOLES WHICH MEANS IT WILL FIT TWO TYPES OF TELESCOPETHE MAIN SIZES WERE 4,1/2 AND 6 APART, OVERALL THE STAND LOOKS BEAUTIFUL ANDHAS A FABULOUS PATINA TO THE BRASS. ASUPERB AND QUITE RARE ANTIQUE BROADHURST CLARKSON LIBRARY TELESCOPE INBEAUTIFUL, WORKING CONDITION, A FANTASTIC SCOPE FOR DISPLAY OR USE AND ANEXTREMELY DESIRABLE COLLECTOR`S PIECE! DELIVERY:FREE DELIVERYWITHIN THE U.K. EUROPEAN DESTINATIONS @ 60.U.S.A./AUSTRALIA (WORLDWIDE) @120.
PLEASE ASKANY AND ALL QUESTIONS YOU MAY HAVE BEFORE BIDDING / BUYING.INTERNATIONAL BUYERS PLEASE CONTACT ME FOR DELIVERY COSTS TO YOURLOCATION.I ACCEPT PAYPAL, INTERNATIONAL BANK TRANSFER OR PERSONAL CHEQUE (U.K.ONLY).PAYMENT MUST BE RECEIVED WITHIN 7 DAYS AFTER THE END OF AUCTION,SHIPMENT WILL BE MADE WITHIN 2 BUSINESS DAYS AFTER PAYMENT HAS CLEAREDINTO MY ACCOUNT (PLEASE BE AWARE THAT PERSONAL CHEQUES CAN TAKE UP TO 10 DAYSTO CLEAR).GOOD LUCK AND HAPPY BIDDING!
Category: Antiques:Science/Medicine:Scientific Instruments
Location: Belfast
Click here for more information and to buy.
See below for similar items.
---
We can't find an exact match in our shopping database. Have a look at the similar items below, or try using the search box.
Items 1 to 15 of 11604

Items 1 to 15 of 11604