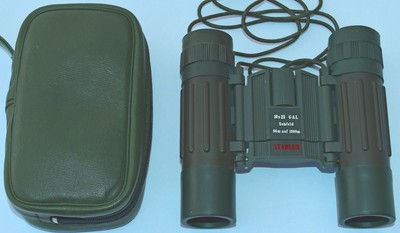 Click here for more information and to buy.
(398)THIS IS A PAIR OF BINOCULARS WITH 10X MAGNIFICATION AND 25mm OBJECTIVE LENSES. THEY HAVE COATED OPTICSTHEYHAVE A LANYARD FOR HANGING THEM ROUND THE NECK AND A SOFT PROTECTIVE CASE WITHWRIST STRAP FOR EASY CARRYING OR ARE SMALL ENOUGH TO FIT INTO A POCKET OR HANDBAG.THERE IS A DIOPTER FEATURE WHICHALLOWS YOU TO CUSTOMISE THE RELATIONSHIP BETWEEN THE TWO BARRELS OF THEBINOCULAR SO THAT IT ADJUSTS THE BALANCE FOR YOUR EYES TO GIVE EXCELLENT VISIONAND FOLD DOWN EYE CUPS FOR USE BY SPECTACLE WEARERS
Category: Cameras and Photography:Telescopes and Binoculars:Binoculars and Monoculars
Location: Margate
Click here for more information and to buy.
See below for similar items.
---
We can't find an exact match in our shopping database. Have a look at the similar items below, or try using the search box.
Items 1 to 15 of 138911

Items 1 to 15 of 138911