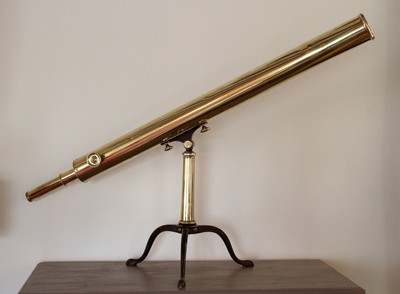 Click here for more information and to buy.
19th Century Bardou Library Telescope, made of brass and on a cast iron table top stand.
The optics are clean and in excellent condition, the telescope gives bright and sharp views, please note that
this is an astronomical telescope and the image through the eyepiece is therefore inverted. The telescope has
taken a few knocks over the last 150 years and therefore does have half dozen small dents and scratches to the
main tube, I think these just add to its charm. The long focus draw tube fits well and slides in and out nicely, the
rack and pinion fine focus mechanism does work effectively but is a little rough.
The overall length of the main tube in 38" and in addition the focus tube adds another 6".
The objective lens is 3" in diameter.
A good looking and functional antique telescope by a well known French maker.
Category: Antiques:Science/Medicine:Scientific Instruments
Location: Powys
Click here for more information and to buy.
See below for similar items.
---
We can't find an exact match in our shopping database. Have a look at the similar items below, or try using the search box.
Items 1 to 15 of 2507

Items 1 to 15 of 2507