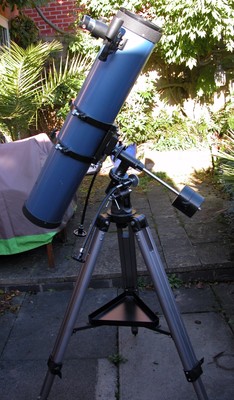 Click here for more information and to buy.
For sale, my Sky-Watcher Explorer-130M EQ2 Newtonian Reflector Telescope with motor drive 10mm, 25mm lenses 2x Barlow and a moon filter.
The telescope is in good condition, but a small scratch on the tube as shown in picture three and
has hardly ever been used. It has an accessory tray and an EQ2 fully adjustable tripod.
It is also fitted with a Beader Sky Surfer lll red dot finder to help find objects in the night sky,
and comes with a copy of Phillip's Stargazing which contains info on set-up and use.
It would make a great Christmas present to anyone who wants to get into astronomy.
Collection only and NO buy it now
Category: Cameras and Photography:Telescopes and Binoculars:Telescopes
Location: Nottingham
Click here for more information and to buy.
See below for similar items.

Sky-Watcher Explorer-130M (EQ2) Motorised Newtonian Reflector Telescope 10713
£199.00
---
We can't find an exact match in our shopping database. Have a look at the similar items below, or try using the search box.
Items 1 to 15 of 2690

Items 1 to 15 of 2690