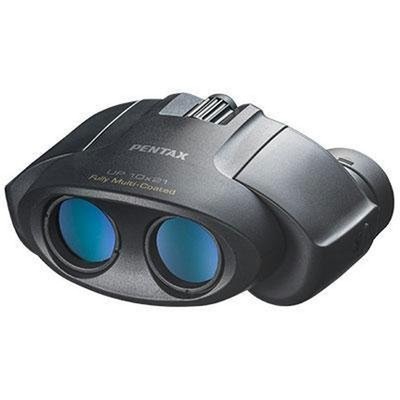 Click here for more information and to buy.
Pentax Up 10x21BinocularsDescriptionPentax UP-SerieThese compact, inverted porro-prism models feature a durabledual-axis, single body design with synchronized IPD adjustment and full multi-coating for better light transmission. Aspherical lens elements give you edge-to-edge sharpness. They are a perfect "utility" companion for a multitude ofapplications. Easily recognised by the dual-axis and classic inverted porroprism design, even our entry model has all the features of a starperformer:aspherical lens elements for edge-to-edge sharpness, multicoated lenses forgreat light transmission. Whether you use it for indoor or outdoor events, youwill be pleasantly surprised by the clarity and sharpness of the image … andsurprisingly affordable too.Features UP-Series- New Fully-multi-coatedopticsFully multi-coated lenses serve the essential purpose of maximizing theamount of light passing through a lens, thereby prevent flare and ghostingfrom interfering with your view. PENTAX applies multiple layers of coatings toevery surface of every element and prism in the full Sport Optics line-up.These fully-multi-coated optics assure the maximum light transmissionresulting in a clear, crisp view of the world.- Aspherical lens elementsEdge-to-edge sharpness is a vital element to comfortable viewing. To achieve this,we utilise aspherical lens elements in our eyepieces. This is a speciallyshaped lens design that reduces aberration to a minimum.- Inner Focus OpticsDesignThis sophisticated optical design is critical to low-maintenance andlong life guarantee. Exposure to airbourne particles and moisture is avoided,thereby ensuring that no outside influences can penetrate the housing anddisrupt functionality.FeaturesProduct DetailsProduct Dimensions: 10 x 1.8 x 5.7 cm ; 295 gBoxed-product Weight: 299 gItem model number: 61804Shipping & HandlingOrders are shipped out within one business day and tracking information will follow shortly thereafter.Addresses must be correct at the time of checkout and we cannot change them after the purchase. Undeliverable or wrong addresses do not fall under our responsibility.
Category: Cameras and Photography:Telescopes and Binoculars:Binoculars and Monoculars
Location: GB
Click here for more information and to buy.
See below for similar items.
See more from eBay…
---
We can't find an exact match in our shopping database. Have a look at the similar items below, or try using the search box.
Items 1 to 15 of 65775

Items 1 to 15 of 65775