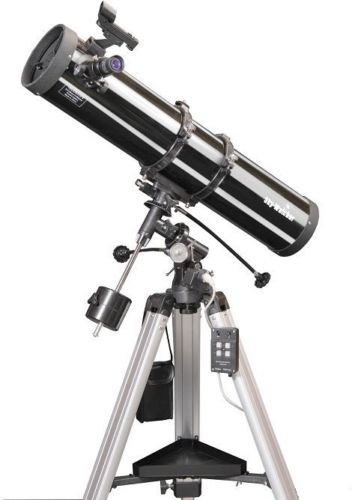 Click here for more information and to buy.
Sky-Watcher Explorer 130M Astronomy Motorised Reflector Telescope, 10713 – Free UK Shipping – New In Box 
The Sky-Watcher Explorer-130M Telescope is a motorised Newtonian Reflector telescope with a 130mm mirror and is excellent quality. This is capable, in ideal seeing conditions, of delivering magnifications up to 265x and 275x without break down. The 900mm focal length allows very high power magnifications to be achieved easily without employing uncomfortably short focal length eyepieces. The 130mm aperture makes this telescope an all-round performer, giving high resolution images of the Moon, planets and other solar system targets as well as penetrating deep-sky views of galaxies and nebulae. 

The EQ2 mount is solidly engineered and tried and tested for over ten years now. It carries the weight of the telescope and is generously specified so that it will work well with the additional weight of accessories such as cameras etc. The included deluxe motor drive is a fantastic feature and is an upgrade for most other telescopes 

Specifications:  

Magnifications (with optics supplied): x36, x72, x90, x180 
Highest Practical Power (Potential): x260 
Diameter of Primary Mirror: 130mm 
Telescope Focal Length: 900mm (f/6.92) 
Eyepieces Supplied (1.25″): 10mm & 25mm 
x2 Barlow Lens 
Red Dot Finder 
EQ2 Equatorial Mount 
R.A. Motor Drive (D.C.) with Multi-Speed Handset 
Aluminium Tripod with Accessory Tray 
30% more Light Gathering than 114mm
Category: Cameras and Photography:Telescopes and Binoculars:Telescopes
Location: Mansfield
Click here for more information and to buy.
See below for similar items.
---
We can't find an exact match in our shopping database. Have a look at the similar items below, or try using the search box.