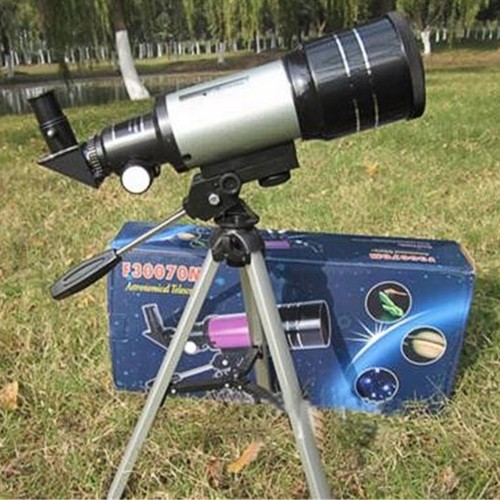 Click here for more information and to buy.
F30070M Monocular Professional Space Astronomic Telescope with Tripod
Feature:- Model: F30070M
– Aperture: 70mm (2.4 inch)
– Focal Length: 360mm f/4
– Oblique Mirror: 90 degrees
– Warp / Weft Machine and Aluminum Tripod
– The Most Highly: 38cm
Standard 0.965 inch attachment contains:
– Eyepiece: H6mm, H20mm
– 3X the Barlow lens
– 1.5X positive lens
Note: This maximum magnification: 150X (lens focal length / eyepiece focal length x Barlow multiplier = maximum magnification)
About Configuration:
– Moon Filter: Because there is a lot of reflected light interfering our observation of full moon, so we can use the moon filter to avoid the interference, and then the moon's surface will be seen more clearly.
– Please screw the moon filter into the threaded of eyepiece lens' lower part, and then connect the eyepiece lens with zenith lens.
About Multiples:
– Equipped with eyepiece: H6mm, H20mm, multiples are 300/6 = 50X, 300/20 = 15X
– If choose 3X Barlow lens together, multiples are 50 x 3 = 150X, 15 x 3 = 45X
– Plus 1.5X the positive lens again, multiples are 50 x 1.5 = 75X, 15 x 1.5 = 22.5X
The formula:
– Objective lens focal length / eyepiece focal length x Barlow multiplier = maximum magnification
– Objective lens focal length / eyepiece focal length = magnification
Installation sequence:
1. Put up tripod, then attach the lens tube.
2. After the tube is fixed, install the finderscope (for preliminary search of the target object), then install the eyepiece (choose one from the two).
3. After find out the big goal, then debug with different eyepieces.
Note: 1. Multiples of course are not the only, and it depends on the combination of factors aperture and focal length. (For example, if the window is big, the natural light is good, and the view is clear.)
2. When use 3X Barlow lens, installed Barlow lens first, and then install the eyepiece. ( When install the Barlow lens, we need to move out the lid on the installation device of eyepiece.)
3. We just can choose one eyepiece to install at the same time, so does the Barlow lens. Type: Telescopes
Material: Optical glass
Color: Silver Package weight: 1.643 kg
Product size (L x W x H): 31.50 x 10.50 x 10.50 cm / 12.4 x 4.13 x 4.13 inches
Package size (L x W x H): 46.50 x 22.00 x 11.50 cm / 18.31 x 8.66 x 4.53 inches
Package Contents: 1 x Astronomical Telescope, 2 x Eyepiece, 1 x Tripod, 2 x Barlow Lens, 1 x Moon Filter * Please note that we do not work the weekend so all parcels ordered within this time will be dispatched the following Monday.
International buyers please note:
1. Import duties, taxes and charges are not included in the item price or shipping charges. These charges are buyer's responsibility.We will try our best to reduce the risk of the custom duties.
2.Please check your delivery address is right before payment. We are not responsible for order's delay or miss because of your incomplete contact information.

* We accept Paypal payment ONLY.

* 12 month warranty and 30 Days Money Back Guarantee from the date of original purchase.
Buyers must contact us to send the defective items back for exchange or refund within the warranty period.
* Our warranty does not extend to any products that are physically damaged or that are not under normal operating conditions as a result of misuse or improper installation on the buyer/user's part.
* In all cases, buyers pay shipping fees at their own cost to return products for exchange or refund. We will be responsible for the postage of replacements.

* Please contact us with eBay message.
*If there is any problem or flaw in our products and services, please do not hesitate to contact us and give us the opportunity to correct any problems or concerns you may have.We will try our best to resolve the matter as soon as possible.
* We will do our utmost to provide 100% customer satisfaction. It will be greatly appreciated if our customers leave comments under our feedback section about our products and services.
* Please do not leave negative or neutral feedbacks for delays by post or courier company as we have no control over them.
Category: Cameras and Photography:Telescopes and Binoculars:Telescopes
Location: ShenZhen
Click here for more information and to buy.
See below for similar items.
See more from eBay…
---
We can't find an exact match in our shopping database. Have a look at the similar items below, or try using the search box.
Items 1 to 15 of 134860

Items 1 to 15 of 134860